~ Award-Winning Craft BBQ ~
Learn more about Crossroads BBQ via 
Fox 47 News 
Click on the links below  to watch
Grillmaster Lee P. Burmeister discuss
   Lee P. Burmeister, co-owner of Crossroads BBQ, is a self-taught pitmaster. He's proof that it doesn't take formal training to cook award-winning craft BBQ.
   Cooking BBQ has been a personal passion of Lee's for many years. In March 2015, he participated in a Georgia Barbecue Association competition, earning a "Grand Champion" title for his ribs, pulled pork
   After graduating from Grand Ledge High School, Lee actually planned to attend culinary school. But life got in the way, so to speak, and he instead spent several years as a truck driver. In his spare time, he cooked BBQ
for his family and friends.
   The more Lee served his BBQ, the more people wanted it. Word got around about Lee's cooking skills and soon he was being asked to cater parties and weddings. That's when Lee first thought about opening a restaurant. 
But Lee had some trouble getting people to listen to his ideas. 
   So instead of opening a restaurant, Lee did the next best thing: he bought a 26-foot utility trailer and converted it into a food truck with a full kitchen and BBQ pit. He called it "Crossroads BBQ" and promoted it on social media. The customers came. And wherever Lee parked his food truck, he quickly sold out of BBQ. 
   Lee then decided to give the restaurant idea another try. He contacted a local commercial property owner, who listened to Lee's plan, tasted his BBQ and suggested a downtown Grand Ledge location that was available. But the space, formerly a bicycle shop, was not restaurant-ready. It had to be completely renovated.
   During the many months of renovation, Lee still had to earn a living by cooking BBQ. So he got a permit to fire up his cooker in the restaurant's rear parking lot. He served only carry-out items from the restaurant's back door and promoted the limited menu on social media. Once again, the customers came. And once again, Lee consistently sold out ~ a 
sign of things to come.
   Crossroads BBQ officially opened its doors at 221 S. Bridge Street in September 2015. During its first week, the restaurant served more than 200 pounds of meat, selling out every day before closing time. 
"If you want to know how good the food is, look at what people say. I
'll let my work do the talking."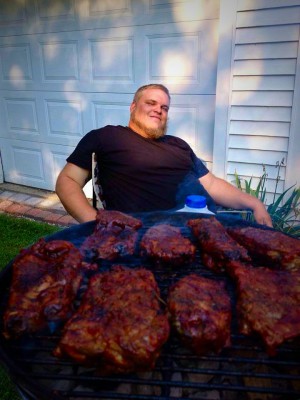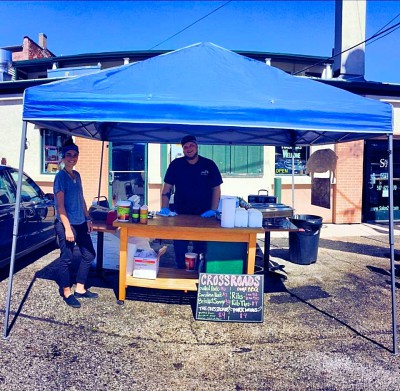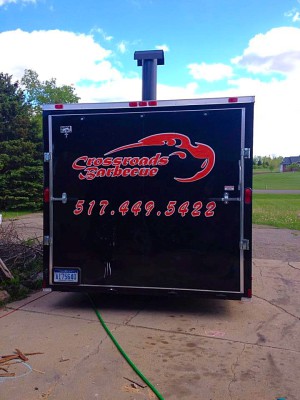 Serving carry-out BBQ in the back parking lot prior to the restaurant's official opening
The initial Crossroads BBQ food truck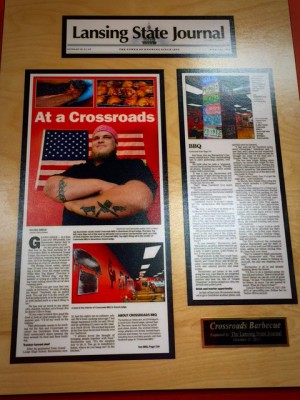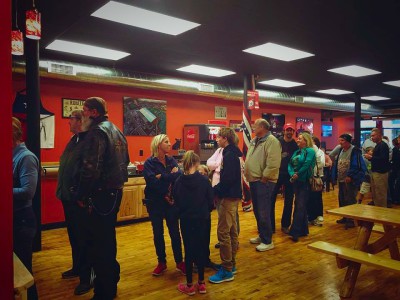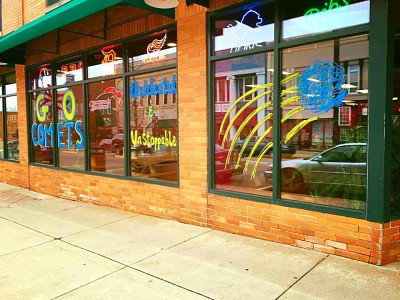 Customers quickly found out that Crossroads BBQ is worth
the wait
Crossroads BBQ, downtown Grand Ledge
Lansing State Journal feature article (Oct. 5, 2015)